Easter seemed to creep up on us quickly this year but we managed to make time for some egg and bunny based crafting! Most of these are from the craft kits we bought from Tesco last year in the post Easter sales (we got another fabulous stash this year too!) that have been squirreled away all year, so it was exciting to dig everything out again and pore over our shiny new goodies!
Foam Eggs
We started off with some simple foam sheets cut into egg shapes and a selection of spring and Easter themed decorations. We simply glued on our chosen decorations and chatted about the different symbols and themes of Easter and Spring.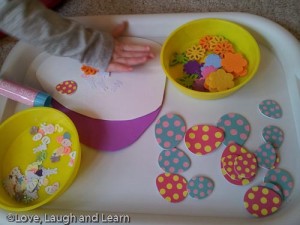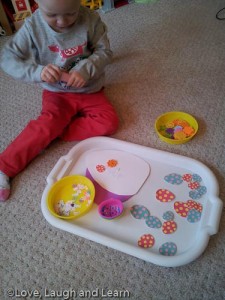 Paper Baskets
These little goodies are from a 'Pop out Easter Fun' activity book from Tesco. The cardboard templates just pop out from each page, and we followed the folding and gluing instructions to create these baskets and bird house. Annabelle immediately stuffed them full of little chicks for the full 'Easter effect!'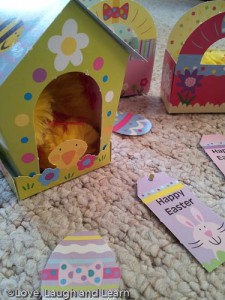 She loved playing with the chicks in the house, and carrying them around in their baskets!
Egg decorating
Last year we used dyes and stickers to decorate our eggs, so this year we tried something different. I saw this idea in various places on Pinterest and we decided to give it a go! I knew this could get messy so we did this in our pyjamas before we got dressed then Annabelle had a quick shower after!
We used a tray of shaving foam with drops of food colouring swirled in for a marbled effect. We gave the eggs a good swirl around in the coloured foam (with gloves on!) then left on a paper towel for a while for the colour to soak in well before wiping off with a paper towel.
Our yellow and pink colours were not very strong, so next time I would just use the darker colours.
Once the eggs were dry we added some decoration with Sharpies and little stickers.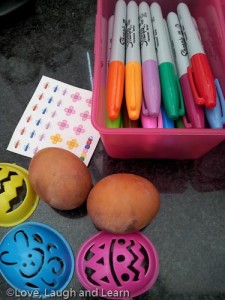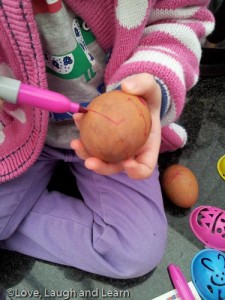 We took our finished eggs off to Avenham Park in Preston for the annual egg rolling event just like last year. (here is a video of the egg roll from last year – I think we are in there hidden under one of the many umbrellas). Thankfully the weather was beautiful this year, and we had a lovely day in the sunshine rolling our eggs (several times!) down the hill and Annabelle perfected her own hill-rolling skills.
Easter Bonnet
We also made an Easter Bonnet to take to Preston for the competition at Avenham Park. This year, Annabelle chose to make a 'bunny' themed hat so we made foam ears, pom-pom eyes and nose, and pipe-cleaner whiskers. Annabelle decorated the brim with lots of 'bunny rabbit' decorations and sequins.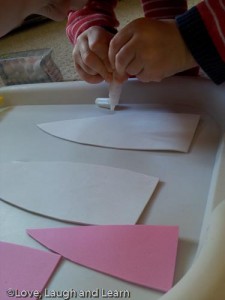 Hopefully this lovely spring weather will continue and we can do some lovely spring crafts!