Here is one of those projects that I have been looking forward to getting on with for ages! Annabelle loves books, and is more and more interested in emergent reading (following the text with her finger and reading aloud what she expects the words to say) and naming letters and sounds. This personalised alphabet book was a great way to help her read some familiar words, and link words together to support her phonics skills.
I simply created a page for each letter showing the upper and lower case letter, and lots of pictures of people, places and objects that begin with that sound. One of my pet hates is so-called 'phonics' toys and resources that use non-phonetic example such as 'g for giraffe' 'x for xylophone' so I was very careful to avoid this!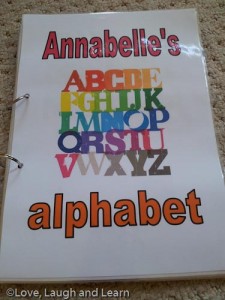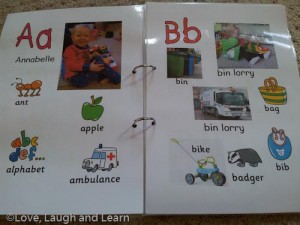 A is for Annabelle, ant, apple, alphabet, ambulance.
B is for bins, bin lorry, bag, bib, badger, bike.
I have tried to use a mix of clip art, photos, and images of toys or objects that Annabelle is familiar with. I even managed to find images of our local council bin lorries! There is a photo of Annabelle herself or somebody familiar on each page – this also gives a chance to show the proper uses for upper and lower case initial letters.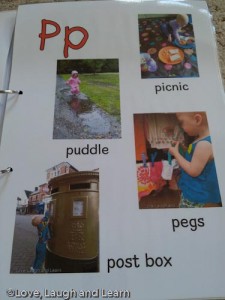 P is for picnic, puddle, pegs and post box.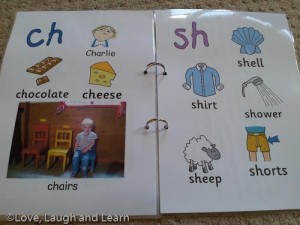 Ch is for Charlie, chocolate, chairs, cheese.
Sh is for shell, shirt, shower, sheep, shorts.
I added pages at the end of the alphabet for the ch, sh and th sounds as these are the first 'blends' taught in most synthetic phonics schemes (and some of the hardest for children to remember!)
Annabelle has really enjoyed using her book – naming familiar letters and looking for pictures of herself!
I have added her alphabet book to our 'letter of the week basket'. More on that soon!