We were looking for days out near us a little while ago and Wonderland in Telford popped up on our radar. It is a small theme park designed for young children and themed around classic fairy tales. Perfect! This was our day in Wonderland:
We used a voucher from vouchercloud to get 2 for 1 entry and Annabelle was free so the 3 of us got in for under £7 and the car park was free too. This was a good start!
We had some lunch in the castle courtyard and set out to explore the park. There are 3 main areas – an open, grassy area with rides and characters, a woodland with character's houses dotted amongst the trees, and a winter wonderland. We went to explore the rides first and although they may be in need of an end of season clean up and lick of paint, Annabelle didn't mind one bit. We went on the caterpillars and tea cups together and she went on the bouncy castle and cars by herself (no adults allowed!) I was initially worried about her going on her own, but of course she wasn't even slightly bothered – she was too busy having fun. Little Red Riding Hood who was attending the bouncy castle had a bit of a panic about the older kids crashing about near Annabelle, but she hardly even noticed!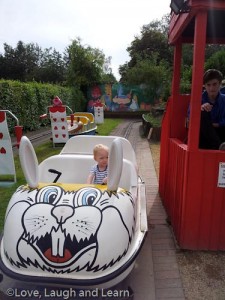 After this we went into the woodland to look for the character's cottages. This was definitely my favourite part of the day, and I could have spent hours in there as a child! There are 8 little houses, the seven dwarf's diamond mine, a gnome village and even some dinosaurs! The houses are all different and decorated inside to reflect each character.
Our last stop was the winter wonderland. When I saw this on the website, I assumed that it wouldn't even be open yet, but we were pleasantly surprised to find that Christmas was indeed up and running! We found the North Pole complete with penguins, polar bears, reindeer, some rides, an ice rink, and lots of little elve's cottages. The ice rink wasn't icy but there were lots of ride-on toys for children to play on. Christmas doesn't really mean a lot yet to Annabelle, but for slightly older children (and grown ups!) this is a really magical little spot.
We loved Wonderland, especially the fact that we didn't have to pay extra for activities such as the bouncy castle or winter wonderland. It's not the most sparkly clean and modern theme park we've ever been to, but it was definatly worth the trip. 🙂
After our busy day in Wonderland, we spent some time in Telford Town Park which was fabulous (more to come on that next time!) and then spent the next day relaxing with Grandma and Grandad down in Stratford-upon-Avon where Annabelle helped Grandma and Grandad feed the swans by the river!