I have had enough of the word 'highlights', so here are some of our 'special little moments' from the last few weeks!
Moments with Nathalie
Annabelle and Nathalie have been out and about again. We met up at 'Glo Family' in Cheadle for one of their 'Toddler Time' sessions. In this particular session, the children built a den then listened to stories by torchlight inside their den with juice and a biscuit (There may have been a little parental help in keeping the den intact long enough for the children to get inside!). We stayed a little while to play in the garden and sensory room, then had some lunch and made our way to Bruntwood Park.
Bruntwood is a favourite for Annabelle and I, and it was nice to share it with friends. There are two separate toddler play areas, one sandy and one covered with wood chips which the girls loved dashing back and forth between! Annabelle enjoyed showing Nathalie her new-found skill of holding the chains of the swing, and tipping her head back like the big kids!
Busy Moments
I think this washing is safely secured to the drying rack!
Following on from Annabelle's peg play in the garden last week, she has been helping me with the washing again! The washing came inside thanks to our British summer weather, and Annabelle helped herself to some pegs from my stash at the back door! She spent ages carefully opening each peg up and placing it in exactly the right spot. When there were sufficient pegs, she pushed them all down one by one to make 'upside down pegs'!
Moments in the sun
"Quick, the sun is shining, let's get EVERYTHING out of the shed!!" And that's just what we did. Every single summer/beach/outdoor toy came out and Annabelle had a very busy day!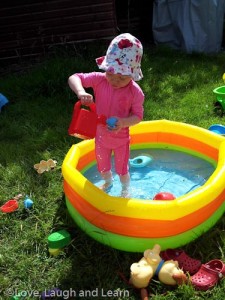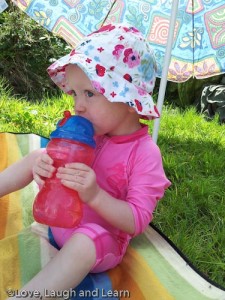 Moments of imagination
As we know, Annabelle loves her HappyLand people, and they act out all sorts of familiar scenarios such as going to the park, driving in the car, tidying up the toys etc. Today, it was nap time and all the HappyLanders were lined up very neatly ready for bed. Once they were all assembled, they lay down one by one on their fronts, and Annabelle took their shoes off and pretended to give them a vest and knickers. Next she kissed them 'night night' and 'snuggled them up'.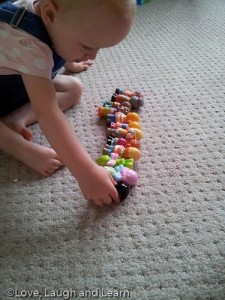 They are clearly aware of the benefits of co-sleeping, although they must have a very big bed!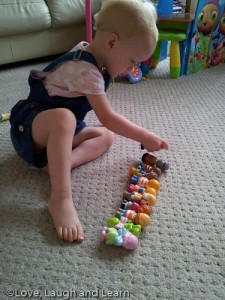 Moments of discovery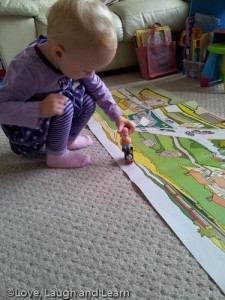 I discovered this town mat in a pack of school stuff I was sorting. I think it was free with some road safety resources, but it was always a bit too small to use with lots of children. However, Annabelle thinks it is just perfect for her little people to explore! It is not to scale at all, but she loved pushing her trains and cars along the tracks and roads. In the picture, her 'toy Daddy' is riding Thomas the Tank Engine who dwarfs the inter city train in the picture! I found a couple of these, and I think we are going to enjoy using them as a play scape for the HappyLand people's adventures!