This was the second time since spring that we have headed off to Preston for some Guild Festival fun! The Riversway Festival is an annual maritime festival at Preston Docks, but being a Preston Guild year, all was promised to be bigger and better.
Thankfully, the weather was much kinder than on our outing to Avenham Park in Preston for Easter egg rolling! As we arrived at the Riversway docks we could see a variety of yachts, speedboats and narrow boats moored up in addition to lots of stalls to visit. We just managed to glimpse the dragon boat race whizzing past on the other side of the docks.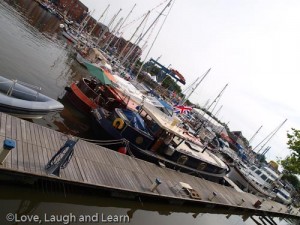 Our first adventure was a trip on board HMS Charger. It was a tight squeeze, but Annabelle enjoyed 'driving the boat' and ringing the ship's bell. Dave enjoyed seeing all the navigational and technical gadgets! Apparently this is the first Naval Vessel to enter the docks since they were re-vamped some 20 years ago, and to celebrate it's arrival, the crew (made up of students!) have been given the honour of 'Freedom of the city'.
We also explored a restored 'working' narrow boat that was originally used to transport wool, cotton and coal along the canals.
One of our favourite parts of the day was a boat trip with lots of interesting history about the docks when they were working docks, not just a backdrop for the pretty apartments! Annabelle's highlight was the sticker she was given to declare that she had been on the 'Preston Belle' which she proudly showed to everybody!
After a look around the stalls, we completed our walk around the docks, had some lunch, and waited in a playground for the evening fireworks! Grandma came to play, and she gave Annabelle a lovely 'Dora the Explorer' doll. Despite us never having actually seen Dora on TV, Annabelle has a pair of Dora trainers, and recognized her straight away! Since then, Dora has been everywhere with us (except swimming, we persuaded her to wait in the lockers!) and I am sure she will be popping up in a few more future posts!
There were a few 'entertainment acts' walking around the festival, including some singing puppet fish – The Cod Choir and Fairly Fresh Fish Co, and also 'The debonair Captain Montague and his gorgeous water skiing wife, Minty' although I admit that with a title like that, I expected something a little more exciting than this…
After an evening with Grandma and Grandad in the playground, we headed back to the docks to watch the fireworks. We were hoping to see the light parade that we had seen in the past, where the narrow boats had been decorated with fairy lights and lanterns and paraded around the docks, but sadly this didn't happen this year. The fireworks just about made up for it!
All credit for these photos goes to Dave who gave his big camera and tripod an outing!