I had always assumed that ice cream (home-made or shop bought) equals lots of sugar and cream, making it pretty unhealthy. I saw this lovely idea on Momma's Fun World for a really simple home-made ice cream with no sugar. Fabulous!
All we needed was milk, a banana, frozen fruit, and a blender! The original post describes how to make 'soft serve' ice cream, or add a little more milk to make smooty lollies. We decided to go for lollies!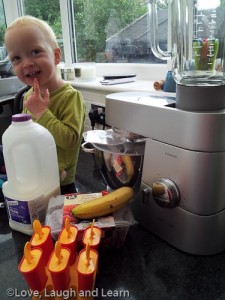 Annabelle peeled and chopped her own banana and chose which fruit to add to the mixture. We could only find mixed summer fruits in the supermarket freezer section (we were looking for just strawberries) but Annabelle enjoyed choosing exactly which berries to put in!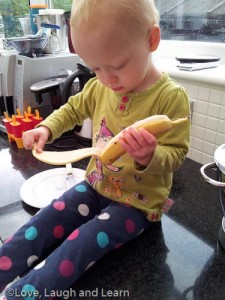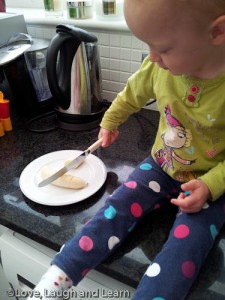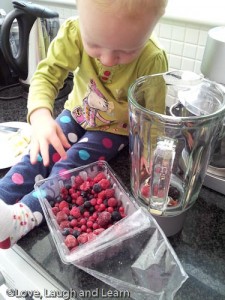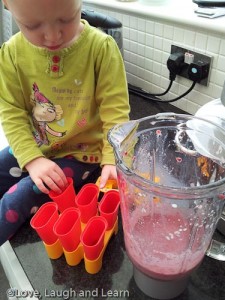 I didn't really use exact measurements to make these, we just added half a banana, approximately one cup of fruit and half a cup of milk. I could definitely see the resemblance to soft serve ice cream once the mixture was blended, but ours had a little extra milk than the ice cream recipe to make it easier to pour into lolly moulds.
We made these straight after breakfast, with the hope that they would be ready in time for lunch. Annabelle was of course desperate to check them every time she went past the freezer, but we managed to hold out until after lunch, and our lollies were just right!
We enjoyed them sitting out in the sunshine, and even Spot the dog joined in and had a share!
I would really recommend giving these a go as a healthy alternative to sugary/artificially sweetened ice pops, ice cream or lollies. We will definitely try again, and experiment with some different flavours. If I was super organised, I would probably use strawberries grown in our garden – but I'm not, so I won't! I will just have to remember to freeze some spare strawberries or raspberries next time we have some.