…As long as you help Mummy with some washing up!!
As the saying goes – "2 birds, 1 stone"! I had some glasses and dishes that needed cleaning before taking to the charity shop, and Annabelle needed water play. So we joined forces!
I showed her all the glasses that needed cleaning and asked her if she would like to help do some washing up outside. I don't think she actually stopped to say yes, but I knew her response was positive from the speed that she hurtled off to get her shoes on, and find a blanket and the water tray!
We took a couple of bowls of soapy water out and sat in the sunshine to do our washing up. (Annabelle only washed some disposable plastic champage flutes but shhh don't tell her!)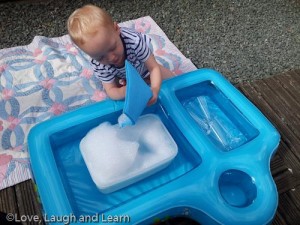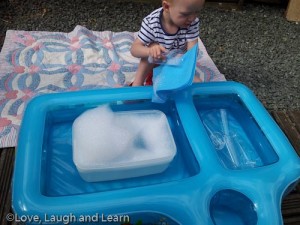 If only all the housework was this much fun!