It seems to be the season for celebrations, commiserations and thoughts for others at the moment, so we made some handmade cards for our friends. Three of my lovely colleagues at school are moving on to new jobs, little Lucy turned 1, and Grandma is recovering from an opperation so we got ourselves some paint and glitter and got crafty!
For our 'Good luck and Goodbye' cards, we made a 4 leaf clover design with Annabelle's finger and thumb prints.
Dave's lovely cousin Sarah's daughter Lucy (1st cousin once removed I think!!) turned one this week so we made her a birthday card using some home-made 1 stamps (made from an old kitchen sponge). We stamped pink, yellow and purple and finished off with a nice big sprinkle of glitter!
Annabelle chose the stamps for Grandma's card – flowers, butterflies and hearts. Again, we finished off with some glitter!
These are our finished cards. I added captions when they had dried but forgot to take photos of that bit!
Annabelle took advantage of the left-over paint to make some 'dots'!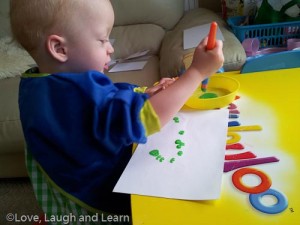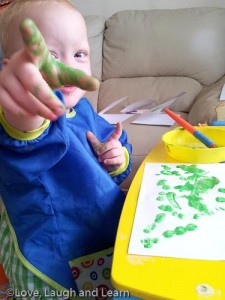 Paula, Clare, Natasha, Lucy and Grandma – we hope you liked your cards, we had fun making them!