Today we indulged in some good, old-fashioned cutting and sticking! Annabelle has been practicing using scissors with playdough and of course, cress, so we had a go at cutting some shiny paper to make a collage. I have been saving off-cuts and scraps of wrapping paper for a while so all we needed was a picture to decorate. I asked Annabelle what sort of picture she would like to make, and suggested a few of her favourite topics. She asked for a tractor picture, and she helped choose one from the computer.
I started cutting the shiny paper into small pieces and Annabelle got her plastic scissors to do the same. Without me reminding her, she told me straight away "carefull of fingers Mummy!" and she reminded me a few times as she watched me cut "Mummy, scissors sharp, carefull fingers!" She managed to use both the straight-edged scissors and pinking shears to cut her paper strips into smaller pieces.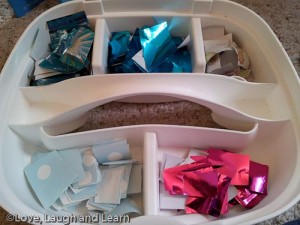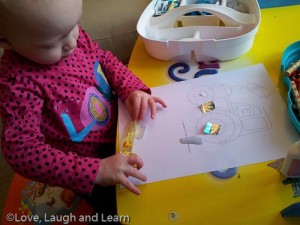 Annabelle was keen to get glueing, so she left the cutting after a little while and started sticking on the pieces I had cut up ready. We used a small bottle of PVA as this is the easiest for her to manipulate at the moment. She has used glue sticks and PVA with spreaders before, but with the small bottle she can just put little dots or thin strips of glue where she needs them (or great big splodges!)
After we had used lots of shiny paper, Annabelle asked for her 'sticky shapes' (colourful foam shapes) and she carried on decorating her tractor with these. I think our next steps might be 'learning when to stop', but she had such a ball, I didn't have the heart to tell her that we couldn't really see the tractor any more under all the shapes and shiny paper!