This weekend we have been out exploring on our bikes and getting lovely and muddy! Last year we were recommended a trail called The Middlewood Way, which is a 10 mile long track running from Marple to Macclesfield. We had cycled a small section last summer, and this year we are keen to join up the dots and finish the whole route!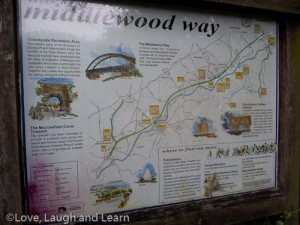 We started from the northern-most end of the route on the outskirts of Marple, and decided to see how far we got. It was a nice warm afternoon, but after the wettest June since records began, the track had lots of lovely muddy puddles!
I like the way that the track passes through a whole variety of environments, and there is plenty for Annabelle to look out for. We went through thick wooded areas with cool, damp air, wide open areas looking out over the hills, over train lines, and past fields and houses. We saw the usual horses, cows, sheep, and even some Llamas. We really opened up our senses and got some lungfuls of peaceful fresh air!
As seems to be tradition on our trips out, we stopped to have an orange and watch the world go past for a little while. Annabelle loves listening out for different birds, and she often comments on sounds like 'birds tweeting' or 'church bells ringing' when I haven't even registered them! I am glad she shares our appreciation for soothing green spaces!
After a rest, we carried on along to Middlewood Way Train Station to watch some trains for a while, then decided it was time to head back.
This was where the real fun began, we had been on a slight uphill incline on the way out so suddenly we were going much faster back downhill, with lots of lovely puddles in our way. I tried to be sensible and use my gears to slow down without loosing momentum…but that was far to boring (and I quite enjoyed being called a hooligan by Dave!). I saw some great blog posts about International Mud Day on the 29th June, and I think this made up for our contribution! Although it was great fun getting muddy, I did feel rather guilty when I realised that Dave would have to lift my filthy bike back up onto the car…oops! x
Being our first cycle ride of the year we had rather sore bottoms afterwards, but hopefully the more we get out, the more resilient we will get!