I have been looking forward to sharing this! I saw this idea on Pinterest whilst looking for ideas for plate art and it was one of those activities that made me think "Yes, this is for us, we must try this!".
I loved the idea of this activity because it is so simple, and only uses 'store cupboard essentials'. It was also incredibly mess free.
All we needed was a salad spinner, paper plates, and paint (and a little blob of blu-tac).
I chose primary colours for this as I thought we might see a little colour mixing, but in the end the paint just spread rather than mixing, but I think the colours looked pretty good together!
We experimented with just a few small drops first to see how it would work, I was genuinely excited to see what would happen myself! Next, Annabelle had a go at squeezing the paint onto the plates (but she let me have a more few goes too!)
I found that a piece of blu-tac was essential to keep the plate attached to the inner basket, otherwise the basket spins, and the plate stays still on top leaving the paint untouched. It also seemed to make a difference if the plate was at a slight angle – the flatter the plate, the more even the spread of paint. We used a salad spinner with a handle on top that spins the basket round. Ours was a little fiddly to keep in place so Annabelle needed a bit of help. I think the spinners with a push down 'pump action' handle would be easier for smaller hands.
Anyway, here are our before and after pictures!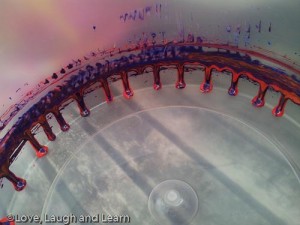 I am prety sure these would fetch a LOT of money in the Guggenheim!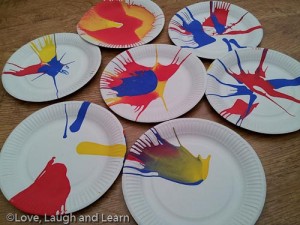 We were caught short by a sudden thunder storm, so had to pack up quickly, but we will absolutely try this again, and I will be trying to persuade my colleagues at school to have a go too for some end of term fun. I'm sure there is a physics lesson in there somewhere…might have to get Dave to explain the centrifugal force!