Happy Father's Day to my wonderful husband, and of course, my own Dad!
Annabelle and I had a little craft project to make her Daddy a nice personal gift as well as some extra goodies. We gave Dave a new torch to add to his prized collection of torches, and a little monkey that Annabelle chose.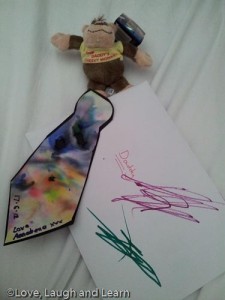 For our handmade gift, we got out this Aqua Art craft kit. It has various projects using blotting paper. Basically, you draw on the paper with felt pens then drip water on, to make pretty patterns!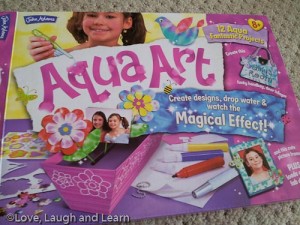 We bought this a while ago when it was on offer, and we have been saving it for a special occasion! It says suitable for age 8+, and some of the projects are a bit fiddly, but I thought we could just have a go at the process of drawing on the paper and dripping the water on to make a paper tie.
The blotting paper was very thin (much thinner than i remember!) so it did rip a couple of times when Annabelle drew a bit too hard, but the effect still looked good when we dripped the water on. We left it to dry, then I cut out a tie shape and mounted on black card. Lovely!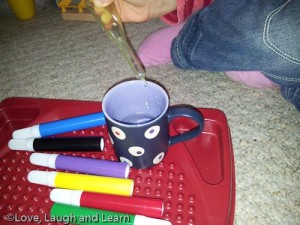 I hope all the lovely Daddys had a good day 🙂