This week we took the playdough pledge! This was a joint project hosted by Sun Hats and Wellie Boots, Nurturestore and The Imagination Tree. This is the Facebook page for Sun Hats & Wellie Boots with loads and loads of ideas for playdough pledge activities every day.
We didn't manage playdough every day as I was working on Monday and Tuesday, then we were out all day Friday but I have saved up plenty of ideas to try in the next few weeks. This recipe for rainbow playdough from Tinkerlab looks just gorgeous, and I can't wait to try out glow in the dark playdough although we might wait for winter when it starts getting dark at about 3pm!
I saw an idea for 'muddy' playdough on the Sun Hats and Wellie Boots Facebook page, and this appealed straight away as Annabelle is really enjoying her farm toys at the moment (the farmer and pig have been to bed with her for several nap times!) I used my standard no-cook playdough recipe and added cocoa to create the muddy brown colour (and yummy smell!) as suggested. We used:
2 Cups of flour
1/2 Cup of salt
1 'gloop' of oil
1 Cup of water
1/4 Cup of cocoa for colour (you can add powdered paint, ready mix paint, or food colouring mixed in with the water)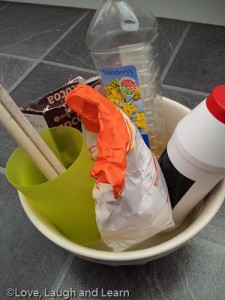 Tip it in, mix it up. Simple! I have made the playdough without salt when Annabelle was younger and prone to putting things in her mouth – it worked fine, just didn't last as long.
My playdough tends to turn out different every time but when I get it right, I prefer to add enough water to make it sticky then keep kneading in flour until it is just right – this keeps the mixture nice and soft and stops it being too crumbly. Today we took our playdough out into the sunshine for a change and I think the sun baked it making it a bit dry, so we had to add more water a couple of times. This just added to the 'muddy puddle' effect of our farm!
It was lovely to have the farm toys outside again, and Annabelle enbraced the idea of a muddy farm. She put the farmer in first, because he has wellies on! Then we stamped all the animals in the mud, and looked at their different footprints. Annabelle noticed that her pig has brown feet, and she thought this was hilarious that he still had muddy feet! Next, we tried making tractor tyre marks in the mud and Annabelle told all the animals to "mind out of the way, mind out!" before trying out all of her different tractors. I loved the way she kept looking back and forth between the tyres on the tractors, and the tracks on the playdough.
I have kept the playdough in a Ziploc bag, and put it in Annabelle's farm box for her to explore again soon. I can see this becoming a regular favourite.