Our highlights this very wet week have been:
Duplo
We love this stuff! Annabelle has a whole lot of Duplo, but her favourite bits are the people and the animals! We like to make little scenes or houses for small world play, and last time we played, we made a zoo. Annabelle remembered this and asked to build a swimming pool for the polar bear. She told me he likes water and ice, and he eats fish! We chose the blue blocks and after I built the base, she helped build up the wall.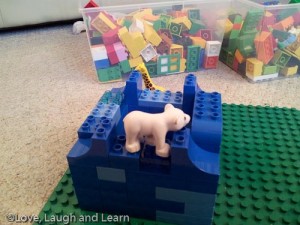 Once the 'swimming pool' was finished, all of her animals, and most of the HappyLand people joined in too!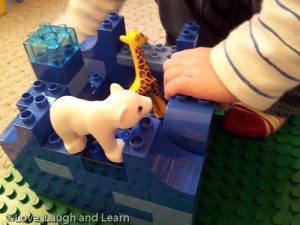 Spending time with friends
This week was the half term holiday which meant we could spend some time with Annabelle's friend Nathalie and her Mummy Rachel. On Wednesday we took the little ladies to a soft play area for some clambering, sliding and jumping about. I am always amazed by how strong Annabelle is in these situations, and they were both brilliant at pulling themselves up on great big steps, dashing under and over obstacles and diving through the ball pool!
We had a great swim at Hyde Leisure Pool on Thursday. This pool is like a mini water park with a big shallow area that the girls could stand up in, waves, geysers, a 'bubbly' corner, a tunnel and a waterfall. There is a small island in the middle of the pool and they had a great time jumping off, they are so brave! It's not the sort of pool we would go to regularly, as there isn't much chance to do much actual swimming but it was fun for a treat. Our regular pool is just a simple swimming pool with a warmer, shallow toddler pool at the side. This pool does have a little slide and selection of toys but it is much better for practising swimming skills and building up confidence.
After swimming we had lunch and Nathalie and Annabelle played really nicely together sharing a colouring book while we waited for the food. Here is a picture of Annabelle showing Nathalie a broken crayon "Look, yellow one broken!" (Nathalie is not levatating above the seat, she's sitting on my knee!)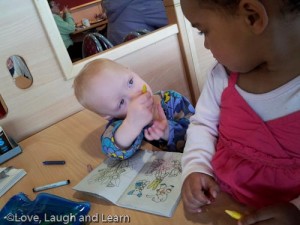 Aquadoodle mat
This was a fantastic present from Annabelle's little friend Nathalie, and it was a BIG hit! It is so simple but fantastic fun! The mat comes with two pens that you just fill with water, three stampers that click onto the pens, and a brush. As soon as the mat gets wet, you can see the colours underneath. Annabelle loves this and keeps asking to get out her 'rainbow mat'.
We tried it with a bowl of water to make splashed and hand prints which was fun. It dries really quickly back to white so you can keep going for ages! Thank you Rachel and Nathalie!
Washing machine party
I found this little scene in the kitchen!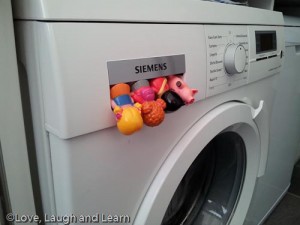 I just love it! I have no idea what the play scenario was, or how Annabelle came up with the idea but it doesn't matter! It reminded me of one day when I found a little abandoned play scene with Annabelle's toy cows having a tea party with the HappyLand fairies, and using the fire truck hose to fill up their teapot! I love stumbling across those little surprises and it reminds me of this post at Let the Children Play.