I have been inspired to be a Mummy that says 'yes'. Play at Home Mom have some gorgeous play ideas on their blog, but their Facebook page has loads more little ideas and photos, including a 'yes' album.
I have been trying very hard to say 'yes' a whole lot more.
Yes you can splash in the same puddle for 5 minutes!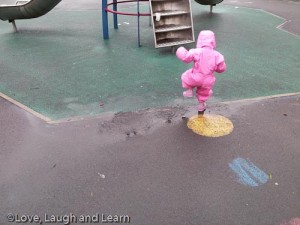 Yes you can help, and it doesn't matter it will take twice as long!
Yes you can get the water balloons out!
Yes you can put your feet in the paint!
Yes we can spend as long as you like looking for snails!
Watch this space for lots more saying yes!