Here is another old one… but we had such fun, I wanted to share!
This year for Easter we went egg rolling in Preston. Apparently egg rolling is one of those traditions that goes back as far as anyone can remember, but this year Preston is celebrating it's Guild so the whole event was much more exciting than normal.
We booked a time slot to roll our eggs on the hill, registered for the Easter bonnet competition and were hoping to do some free art and craft activities as well. When we arrived at Avenham Park, it was already pretty wet so we weren't sure how much would still be going on, but to their full credit everything carried on as normal throughout the rain and there was a great turnout!
Our first job was to roll our egg down the big hill, so we met up with Grandma and Grandad and lined up along the bank. Dave bravely squelched down to the bottom of the hill to catch the egg and take photos! After a big countdown, everybody threw their eggs down the hill…and promptly went charging after them, leading to several muddy bottoms!! Annabelle threw her egg with a little help from Grandma! I thought she might be a bit reluctant to let it go, but we had explained what would happen and she saw everybody else throw their eggs down the hill so she joined in with gusto!

After we had recovered our eggs we went for some nice lunch in the Pavilion cafe which was great (although very very slow…but it was a busy day)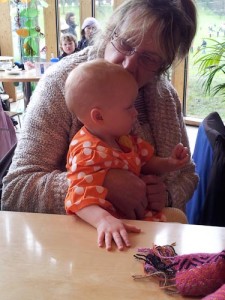 By the time we had eaten it was time to dash back out into the rain for the Easter Bonnet judging. I had expected maybe a small parade with the children walking in front of the judges but we were excited to discover that we would be judged up on the main stage infront of the audience and a couple of local press photographers. Our excitement started to dwindle as we realised just how long it was taking to get each child up on stage individually. If I recall correctly, we were roughly number 35, but the final numbers went up to the 60's! Annabelle waited very patiently in the rain for her go and when the time came, she walked proudly up on stage and showed off her hat (and a wave and smile) for the judges.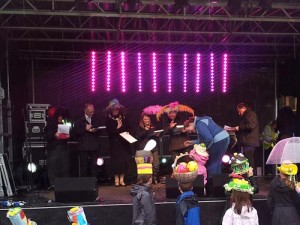 I wasn't at all surprised that we didn't win, there were some truly fantastic creations. The first prize was won by a boy whose bonnet was decorated like an aquarium, with creme egg fish! Annabelle's was fairly standard with shop bought decorations but she had lots of fun decorating it (her favourite bits were the huge 'jewels'!) and hopefully next year she can have much more input and we can get creative!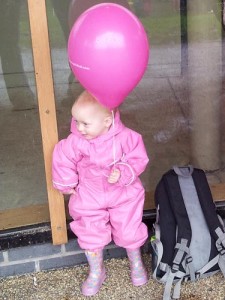 By the time the Easter bonnet competition was finished, everyone was pretty soggy but we headed off for an explore in the park to see what activities we could find. Sadly, the horse-drawn carridge rides and easter craft activities had finished early so after a short walk along the river we headed back to the car.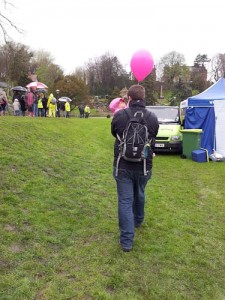 There is something very satisfying about arriving back at the car or home after a fun day out, all wet and bedraggled. Luckily we all had dry clothes and hot drinks so after a quick change in the car park we set off to Grandma and Grandad's for tea feeling very glad we ventured out in the rain.
I am looking forward to doing this again, as we love to get crafty, and Annabelle loves an excuse to wear a hat so Easter bonnet decorating will definatly be on our list of "to do's" for next year. Infact, being the bargain hunters we are, we got several plain bonnets, egg decorating kits and Easter craft kits in the sales straight after Easter!