It's my turn today! And a rather fabulous day I have had too!
I have been truly spoiled by my loved ones and even the weather has been gorgeous! I sat opening my presents this morning with the sun streaming in through the bedroom blinds, feeling very loved. Dave knows me so well – he gave me a new handbag, gorgeous mugs and a kindle cover with built in light. All my favourite things!! I am in love with my mugs, and they look just perfect with the coffee machine that Dave gave me for Christmas. I do love mugs (and coffee, and tea!)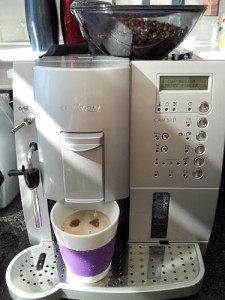 My lovely Mother-in-law gave me some alphabet, number and shape cookie cutters and an icing/biscuit gun. Just in time for the Jubilee party! No doubt Annabelle and I will be baking up a storm in the kitchen this week…watch this space!
After breakfast we slathered on the sun cream and packed up hats, water bottles and a picnic rug (wasn't it only a couple of weeks ago that we were bundled up in wooly hats and not sun hats?!!) and set off for our favourite day out – Buxton!
In the past, we had travelled straight through Buxton plenty of times on trips to Bakewell, but never stopped. Then last year, we went camping to Blackwell which is really near Bakewell (confusing!!) so we went over for a day out. We spent most of our time in and around the Pavilion Gardens which quite easily fills a whole day.
There is a modern leisure centre and we went for a swim while on holiday here. It had roomy, clean family changing rooms (even in the middle of the summer holidays!) and a nice warm baby and toddler pool. Next to this is Buxton Pavilion Arts Centre which has cafes, tourist information, gift shop etc and a large space for indoor markets. There has been a market event on every time we have visited – farmer's markets, local food festivals and craft fairs which are always great to look around.
We decided to try somewhere new for lunch for my Birthday, and Dave spotted Lone Star tucked down a narrow street between the gardens and the university observatory.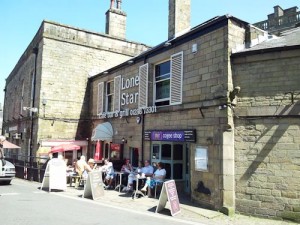 This was a lovely little cafe, nice and quiet and cool, just what we needed on a hot, hot day! We started off with funky drinks – a strawberry and apple slush for me, and a banana and honey milkshake for Dave. Of course, Annabelle had a good sample of both!
We both ordered a lamb burger and shared with Annabelle, they were yummy! We all like lamb, but these were the nicest we have ever had. Even the chips were posh, served with chunky ground pepper and balsamic vinegar! Annabelle didn't have chips as they were too salty but she wolfed down her share of lamb burger!
After a quick wander into town to stock up on drinks, we set our sights on the Pavilion Gardens, a place where we have whiled away many a happy afternoon. We made daisy chains under big shady trees, rode on the train, kicked about a football, watched people paddling in the stream and played for AGES on the swings!
Buxton is the kind of place that you just don't want to leave, but at least we could enjoy the drive home through the scenic Peak District in the sunshine!
Thank you to my wonderful husband and daughter for such a beautiful day!
I have wanted to blog about Buxton for a while, so here are a few other happy memories from our visits to the Pavilion Gardens.