We have a new friend outside – our 'Garden Guardian'!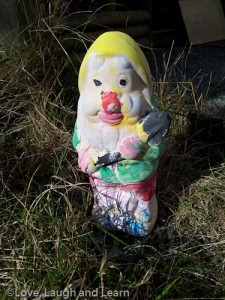 This little fella arrived in a 'paint your own gnome' pack from Morrisons. Annabelle enjoyed choosing what colour hat and coat to give him, and making sure he would look smart 'ready to look after our garden!' We were a little bit worried that the paint would disappear after a bit of rain, but he has coped very well with our British weather, and plenty of extra watering can showers!
After painting him, we needed to choose a good spot for the gnome to watch over the garden so Annabelle decided to put him on the corner of the lawn, next to her windmill. I asked her if she wanted to make him a special little garden of his own, so she dashed off to collect some little treasures!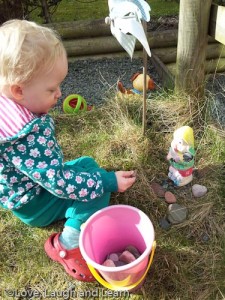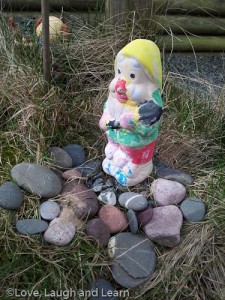 The gnome settled in well with his collection of special stones and pebbles, flowers, pine cones, conkers, twigs and a huge pile of stones from our path!
Every time we go out into the garden, Annabelle checks on her gnome, clearing away any weeds or long grass. If he is muddy, he gets a shower. If he is nice and clean, he gets muddy so that he have a shower!
After a recent trip away we brought home a stash of gorgeous white pebbles for the gnome and we made him some towers and a sunshine!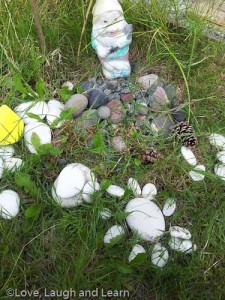 Looks like we have just made it even trickier for Daddy to mow the lawn!