Coloured paper, paper punches and glue. Simple, and so pretty!
This was one of those spur of the moment crafts that had no real plan or direction – I just saw the paper punches and thought that Annabelle would really enjoy the little shapes (she loves tiny little 'treasures' like that!) and also it would be a great fine-motor muscle strengthening exercise!
We chose our favourite shapes and some coloured paper and set about squeezing! (Annabelle also wanted some coloured sticks to glue with her shapes!)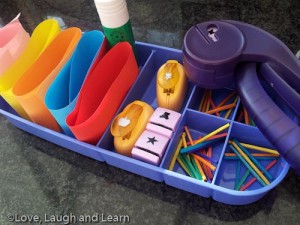 We tried different types of punches – the little individual punches with a lever to push down, and a larger punch with a trigger style handle and interchanging shapes. Annabelle found the smaller ones tricky at first because she needed to squeeze harder, and when she lifted them up the paper fell back out. We kept on trying though and she soon found that if she left the punch on the table or board, and pushed down onto it, it would be much easier.
Soon we had a good collection of little shapes, and also the paper strips with holes punched out. Annabelle decided that she wanted to stick some of the paper strips onto her collage so I suggested cutting them down into smaller pieces. She loves any excuse to snip, and these thin strips were nice and easy for her to handle.
To finish her little project, Annabelle made a collage by sticking her strips, sticks and shapes onto various coloured papers. There were lots of these, but the view from a distance doesn't really do it justice so here is a close-up!
We still have lots of the little paper shapes stashed away so I am sure they will be back for more sticking and decorating!