We have been making a little treat to help our feathered friends through the frosty days! There are lots of recipes for fat balls and seed cakes on the internet but I am a bit squeamish about things like lard, so this idea seemed perfect – just peanut butter, bird seed and toilet roll tubes!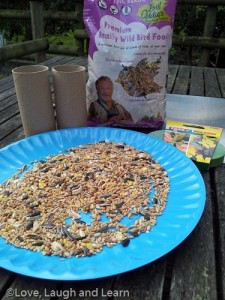 I put a big dollop of peanut butter onto the cardboard tube, and Annabelle helped me spread it around (very messy, but she was determined to do it!). Once it was covered, we just rolled the tube on a plate of bird seed – and done! We made ours in the garden, and it was lovely to be able to spend a bit of time out there for a change – and also to know that any spillages or mess would be swiftly dealt with by the birds, no clean up necessary!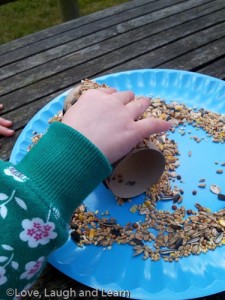 The beauty of these bird feeders is that you don't even need string or ribbon – just pop the tube straight onto a tree branch. We even put some of ours onto fence posts!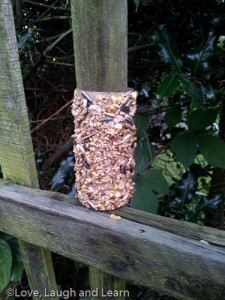 Annabelle knew from experience that the birds probably wouldn't come out while we were outside, so we retreated inside to watch from the conservatory. We could hear the blue tits in the bushes and trees making lots of noise (Annabelle told me "They must be tweeting because they want some breakfast! I think they might be saying thank you for the seed!") so we waited….and waited…and waited and eventually one blackbird appeared – Annabelle was thrilled!
Over the next few days, we saw lots more blue tits and blackbirds pecking away at the bird feeders and the seeds on the ground. We also found a little pile of empty sunflower seed shells and we talked about how the 'cheeky squirrel' had maybe pinched all the sunflower seeds!
Once all the feeders were empty we had a go at making another batch, but this time, our 'cheeky squirrel' scuppered the plans. I watched a squirrel eyeing up the bird feeders from the kitchen one day, but didn't think much of it – I was happy for him to share. Until I realised that the squirrel had taken away an ENTIRE bird feeder! Then the next day, two more had gone, and the day after that we hand none left at all!
All Annabelle is concerned about is that the " 'Eeky squirrel needs to bring back the cardboard so I can recycle it!"
For now we are sticking with just sprinkling out bird seed around near the bird bath until we can think of an anti-cheeky-squirrel upgrade, at least the squirrel leaves a bit for the birds that way!
We found a simple bird spotter sheet and lots of other free downloads on Nature Detectives.