"Run, run as fast as you can. You can't catch me, I'm the gingerbread playdough man!"
My last post was all about our Gingerbread Biscuits that we made after reading 'The Gingerbread Boy', but we continued our gingerbread fun by making some playdough to help us retell the story.
I used the recipe from this post but also added 3tsp of ginger and 1tsp of cinnamon – it smells amazing!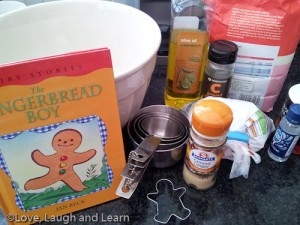 Having made gingerbread for real in the morning, Annabelle was a dab hand at rolling the dough and using the people cutters.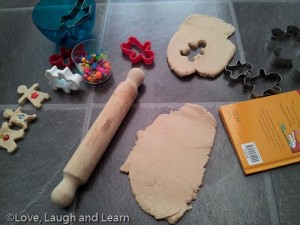 We used plastic beads to decorate our gingerbread people, and they were surprisingly easy to recover and clean up afterwards!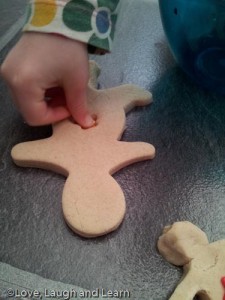 Once we had a good collection of people cut out and decorated, we gathered some props and retold the story of the Gingerbread Boy with them. Our selection of animals and people came from various sets so they were not really to scale, but Annabelle didn't mind one bit that her tiny farmer was chasing a gingerbread monster three times the size of him, shouting "I want to eat you for my tea!!".
We had so much fun re-telling the story and putting our own spin on it that this activity lasted most of the afternoon, and because the playdough will stay soft for so long, it is something we can come back to as often as we like.
Retelling stories is so important for helping young children develop language skills, and become good readers and writers. Annabelle will often open up a book and begin "Once upon a time", and chat to herself about the pictures, finishing with "The end!". This confidence with books and 'book talk' will help her be relaxed and enthusiastic when it comes to reading for herself or writing her own story ideas. Watch this space for more story telling adventures!