They say there are three ways to learn – by watching, listening, or touching; but this list is missing one important learning style – eating! Today was all about 'The Gingerbread Boy' for us so we looked at the book, listened to the story, made some gingerbread, and ate some gingerbread!
Annabelle chose the book 'The Gingerbread Boy' a few nights in a row at bedtime so she knew the story pretty well when I suggested making our own Gingerbread Boys, and she was very excited to see if they would 'hop out of the oven' just like the one in book!
I used this tried and tested recipe from the BBC Food website, but we substituted the sugar and syrup for Sweet Freedom natural sweetener.
We seem to have a vast array of people shaped cutters, so we had fun discussing the different sizes, and choosing bigger or smaller, wider or thinner cutters. Of course, we ended up with an extended family of Mummy, Daddy and baby gingerbread folk!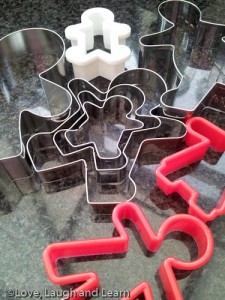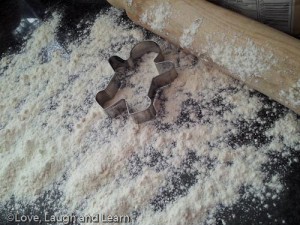 After the biscuits had cooled, we set about decorating them with a piping bag. Annabelle made lots of dots so that she could use raisins and sugar balls to make her features, whereas I opted to create designs with the icing.
Using the piping bag was a great fine-motor development activity because Annabelle had to squeeze really hard and keep the bag steady at the same time. Once we had finished decorating the biscuits, I let her squeeze the remaining icing onto a chopping board for fun. She played for a while with the nozzle on, then we took it off when her fingers were too tired! She iced an 'A' for Annabelle, 'D' for Daddy, and yes – she told me that the wider trails of icing looked like pink poo. What is it with little people and poo?!
After lunch, we sampled our gingerbread people and I got to teach Annabelle one of her most important life lessons – the art of eating a gingerbread man. Legs first so he can't run away!
Our gingerbread fun continued in the afternoon with some gingerbread playdough and small world story telling. More on that next time!