This is our Christmas 2012, captured in some of our favorite little moments:
Lincoln
Last time we visited Lincoln we had some beautiful Autumn sunshine, but our December visit was decidedly chillier! We had a lovely time with family, and Annabelle was very impressed by the Christmas lights in the historic city centre.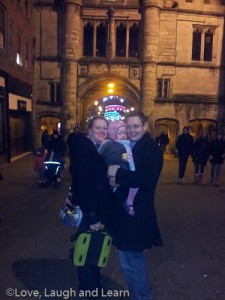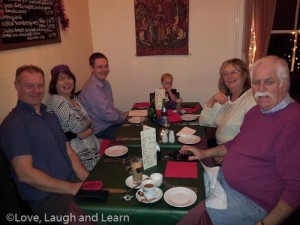 Stratford
We continued our travels to visit Grandma and Grandad in equally historic Stratford-upon-Avon (we pick our holiday spots well!) for some more family fun time.
Trafford Centre 
We visited the Trafford Centre for a little bit of shopping and lots of tree spotting!
If you don't recognise the snowman, you need to watch this advert (tissues ready!).
Christmas Eve!
Christmas day
Loving her new toys
This photo should really be a video, but for the purposes of reading the caption, imagine a heavy Yorkshire accent (not our accent, just adopted for this!) as Annabelle squeezes her doll so hard and says "oooooh, I luv ya!"
And that was our Christmas 2012!