Ok, I'll be honest – these activities were actually for Bonfire Night (Celebrated on the 5th November in the UK!) but by the time the photos were uploaded, Bonfire Night was long gone so I saved them up for New Year's Eve. Sneaky!
Bonfire night was a really exciting time for Annabelle – the nights were drawing in and getting darker much earlier, and every evening there would be fireworks going off somewhere to watch or listen to. It was all very inspiring for artwork so we got creative and found lots of different ways to make firework art.
Spin art with glitter
We tried spin art over summer and fireworks seemed to be the perefct inspiration to have another go. All you need is a salad spinner, paper plates and paint. Just attatch the paper plate to the spinner's inner basket with blutac, squirt on a little paint and spin! This time, we added some glitter before we spun the paint to give a lovely sparkly effect.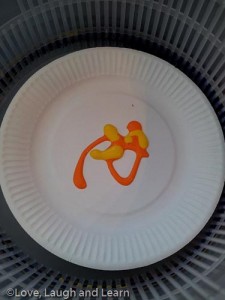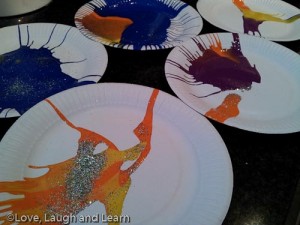 Black Paper and chalk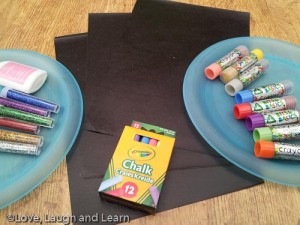 Annabelle actually used a variety of pens and colours, but the chalk was her favourite! We started with black paper, chalks, glitter, and glitter wax crayons. I showed her some pictures of fireworks, and we experimented with how to make firework shapes on the paper.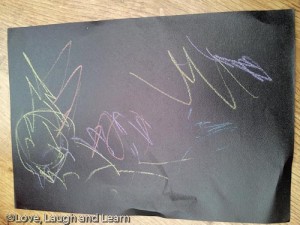 Glitter!
Of course, we couldn't let the opportunity pass to get out some good old glitter! We simply put a large spot of PVA glue on the black paper, then spread it outwards to make the firework shape and sprinkled liberally with glitter. These were my favourite pictures because they look so realistic!
Just for fun – here we are watching a fireworks display at the Trafford Centre.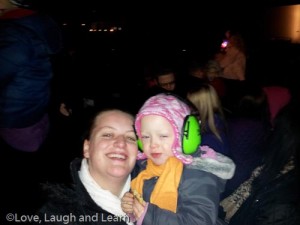 The cool glasses were given out by the Legoland staff and made the sparks in the sky appear to be floating 3D Lego bricks. Very, very clever stuff!
(We do take pictures of Dave, he just never lets me publish any!!)
… and here are some of the fireworks …
We hope you had a fabulous festive season, whatever you celebrate and here's to a healthy happy and fun filled 2013!