The last of our autumnal crafts! We have really enjoyed all our autumnal fun this year, and I saved this activity until last to make sure that Annabelle had had plenty of experience of the changing colours on the trees, and witnessed lots of leaves falling in the breeze before we painted them.
This was a lovely simple craft with no real preparation, perfect for a quiet afternoon. We started out heading to the garden to collect some twigs – preferably small enough to fit onto paper, not the small trees Annabelle tried to drag into the house!!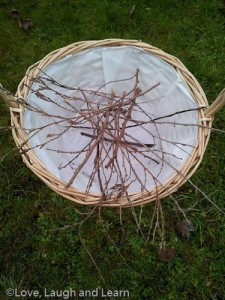 Before getting our paints ready, we talked about the different colour leaves we had seen and whether we had the right coloured paint or if we would need to make some. We needed brown paint for the twigs but didn't have any ready mixed so this was a nice opportunity to practice some colour mixing with purpose. Annabelle looked a bit confused when we started mixing the red and green as they started off just swirling together, but eventually we had brown and I think she was pretty impressed that we made it by ourselves!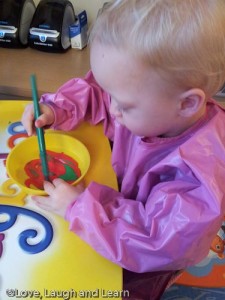 Now comes the fun part! Annabelle chose a twig to be her first 'tree' and started painting it with plenty of brown paint.
Once the twig was nice and coated in paint, we pressed it down onto the paper to make the 'tree print'. This was a bit fiddly because obviously the twigs are not very flat, but we just gently pressed them down untill we had a rough tree outline. To make our falling autumn leaves, Annabelle finger printed with various 'leaf colours'.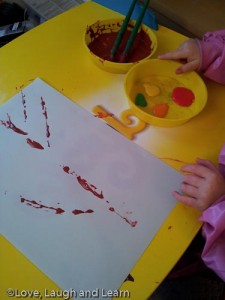 We had been reading the book 'leaf trouble' and this was a lovely compliment to the colourful illustrations in the story. I love how bright they are, and so simple to make! I think we will try this again and make snowy trees for winter. Annabelle has a large stash of twigs 'ready for painting next time!'