Although I enjoy the sunshine of summer, I definitely feel a thrill when Autumn begins to peep around the corner. It is absolutely my favourite season with the promise of colourful landscapes, cooler, fresher air, a huge haul of natural treasures such as conkers and pine cones, and the chance to snuggle up in coats and hats!
We have big plans for this autumn! Now that Annabelle is older (and I have a Pinterest board full of ideas), I feel like we can really get stuck into some natural, outdoorsy autumnal fun. Our autumn adventures began when the weather gave us a firm message that summer is over, and puddle jumping can begin again! We have had a couple of very wet trips to Woodbank park to test out the puddles!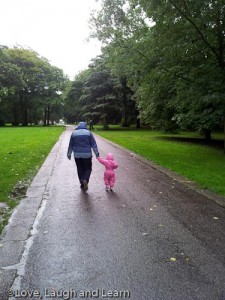 When the weather dried out a little we took a picnic and had a good look for signs of autumn. We could feel the cooler air and see a change in the trees with some golden and brown colours creeping in.
This weekend we made wish lists of autumnal activities we would like to do. I know lots of people make seasonal 'bucket lists' but I prefer the term 'wish list' – bucket list seams very 'final', as though it is a failure if we don't achieve everything. I think 'wish list' sounds a lot more positive, and each item achieved is a little extra bonus!
My wish list is full of classic favourites, original ideas and of course some great ideas from Pinterest! Annabelle's list is mostly based around glitter, sparkles, lots of glue and a slug!
So far, my wish list includes:
Leaf prints in paint
Leaf prints in salt dough
Mandalas
Twig print trees with thumb print leaves
Treasure hunting for natural goodies
Leaf colour sorting
Pumpkin carving
Firework pictures using chalk, spin art, paint flicking, and coloured bubbles
Leaf kicking
Making soup and bread
Pine cone people
Woodland walks
Right, enough list making – let's go and collect those leaves and make some art!!