Annabelle and her friend Nathalie have been tearing up the town again…OK, maybe not tearing up the town but definitely having a roaring time at Heaton Park! We met up just before the summer holidays for some good, old fashioned park fun.
Our first stop was the lake to feed some ducks. These are very lucky ducks and geese, and being a sunny day they had been fed all day long! They indulged us and waddled over for some of our bread!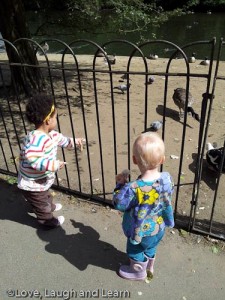 With perfect timing, the little land train pulled up just as we were leaving the lake so we jumped on for a ride! The girls enjoyed waving at everyone we passed and bumping along on the little train.
Next we stopped at the farm, but we were disappointed to find that it had just closed! Nathalie and Annabelle managed to spot some goats through the gates but that was the best we managed, we couldn't even see the horses and donkeys in their usual field!
We had a lovely stroll down the long hill towards the playground, and the girls enjoyed walking underneath the trees, running up the banking, and generally dashing about!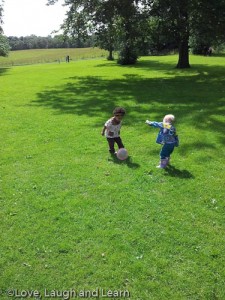 Down at the playground we rode wooden horses, wobbled on wobbly boards, ate some snacks and swung in the big basket swing! Rachel even showed the girls how to roll down the grass hill, Annabelle found that a bit tricky, so shuffled down on her bottom which was very cute!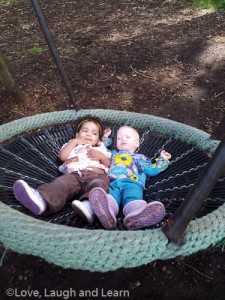 After a fabulous afternoon, we headed back to the cars but the fun wasn't over yet! Annabelle and Nathalie found a big pile of sand at the exit of the playground and they had a great time picking it up and dumping it on the grass or down the drain! When we got home, I asked Annabelle if she wanted to tell Daddy about our day, and all she wanted to talk about was the sand!
We had a lovely time, and it's great to see how much the girls change and develop in the few weeks between each time we meet up. They are moving away from playing 'alongside' each other to really interacting and seeking each other out to share experiences. Today they were chasing each other about, calling each other, laughing together, and copying each other. Our little babies that turned into toddlers suddenly seem like little girls. Where did all that time go?!