Before I begin, no-one has paid me to say this, and we didn't receive any incentive to write this review but we just had such a good time, I wanted to share!
We went to Let Loose soft play centre in Hazel Grove in July (I know it was a little while ago, but yes, I've got a bit of a backlog!!) after we saw the team promoting it at the Olympic Torch celebrations in Stockport. I had been meaning to visit for a while, the we saw a notice on their Facebook page for baking activities on Fridays so we made a date!
As with most soft play places, Let Loose is situated in an industrial unit, but unlike many, It was really easy to find with signs directing us in right from the main road. There was a big car park right outside, and an overflow beyond. Let Loose has only been open a few months and it definitely looks shiny and new, but it is also spotlessly clean which is an impressive feat for a place filled with children all day!
When we arrived, I mentioned that we would like to join in with the baking, and the receptionist suggested a 'coffee morning' ticket. Somehow, this was cheaper than standard entry, but also includes a hot drink, teacake or crumpets and the free baking activity. Not bad for £3.50!!!
Inside, there is a HUGE playframe and go-karts for older children at one end, cafe and tables in the middle, and 'toddler town' at the other end. It was nice that the toddler's area was separate from the main area and didn't end up swamped with older children running through.
Annabelle loved toddler town, there was a small playframe that she could negotiate herself (after a couple of goes with Mum!) Little Tykes cars, baby corner, small football area, and ball pool inside the 'igloo'. We liked the igloo, especially the pipes round the edge that sucked the balls up and dropped them back down from above!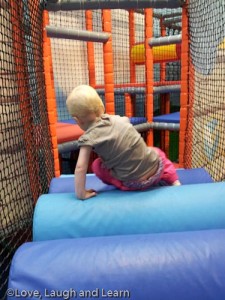 We spent an hour clambering about, then stopped to share our free crumpets and coffee (water for Annabelle) before heading off to the baking activity. Although we were only the second to arrive, within an hour it was pretty full up with not a single spare table, and the activity was popular, but there was space for all the children to join in. The biscuit making activity was nicely differentiated, with older children weighing and measuring, and doubling the recipe, and younger ones tasked with the mixing and rolling. The children all chose a cutter and cut out their own biscuits.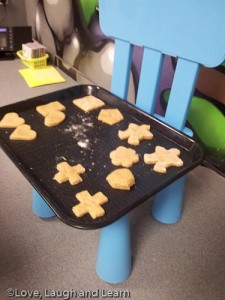 While the biscuits baked we explored the large play frame and it was brilliant! Although the centre was busy, there was plenty of room for all the children to get round without queuing or getting squashed up. There was a bumpy slide, a super-steep slide (too steep for us!) and a covered spiral slide. We found different ladders, tunnels, zip wires, a perspex floor on the top-level (we whizzed over that rather quickly!) and much more.
When the biscuits were cool, we decorated them in the peace of the party room with some soothing music playing in the background – perfect after the busy play frame!
We had a fantastic time at Let Loose, and will definitely be back. It was the best soft play we have been to (and we have tried out a LOT!) and there was something for everyone. Being a bit of a wimp, we probably won't be back during the holidays, but will wait for the relative quiet of term-time but I would absolutely recommend this place to my North-West Mummy friends! 🙂