Wow, it's been a while. My 'quiet moments' for blogging seem to be disappearing as Christmas approaches! Anyway, here is a lovely simple activity that is not at all 'Christmassy' but very very cool!
We seemed to have hundreds of broken cheap wax crayons – the ones they give you in restaurants and cafés that are so rubbish you have to press really hard to make a mark, then they snap because you pressed too hard! So we saved up all the broken peices until we had enough for our rainbow crayons.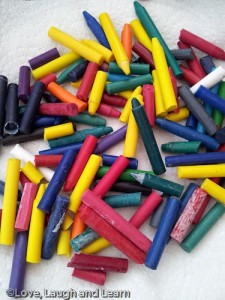 These are so simple – all you need is old or broken wax crayons, cupcake cases or silicone moulds and an oven! We had made one of these before with a silicone cupcake case which made a nice chunky round crayon, but this time I wanted to try some long silicon ice cube trays we got from Ikea a while ago.
We started off breaking up the larger pieces to make them all pretty even, then spread them out in the ice cube tray.
We melted them on a low heat for about 15 minutes, then left them to cool.
I was a bit disappointed when we first took them out of the oven as they looked really dark as though they had all blended into one colour, but as they cooled, the lighter colours rose to the top and once we took them out we could see the mixed colours really clearly on the bottom.
We popped out our brand new crayons carefully and got ready to make rainbow pictures!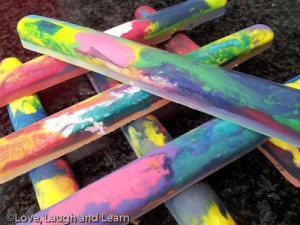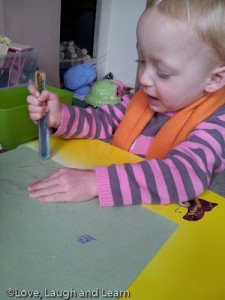 Annabelle loved how colourful the crayons looked and how her lines changed colours as she drew. The long shaped ice cube trays created a perfect 'chunky' crayon shape. We do love a bit of recycling, and I'm sure it won't be long until we have another stash of freebie crayons to 'improve'!