I have always made my playdough cold with just flour, salt, oil and water but I saw this recipe from the Imagination Tree and it was described as the 'best ever no cook playdough recipe'. They are definitely the  playdough Gurus so if this is their 'best ever' I decided it must be worth a try!
This recipe uses:
2 cups of plain flour (all purpose)
2 tablespoons of vegetable oil
1/2 a cup of salt
2 tablespoons of cream of tartar
up to 2 cups of boiling water
food colouring or paint
flavouring, essence, spices or oil to add scent
a few drops of glycerine (to add shine!)
I mixed the flour, salt, cream of tartar, oil and water together to make a sticky dough. Next I added the colour and glycerine and kept on kneeding until it was smooth and not sticky.
Obviously, the dough is hot and using boiling water means it isn't suitable for making with children but it has definitely lasted much longer and feels much smoother than my usual recipe. I think this will be our new staple recipe at home, but I will use cold water so that Annabelle can help out if we are making special occasion playdough – I am looking forward to some cinnamon playdough at Christmas time, and hopefully some white sparkly 'snow' playdough if we get a snow day!
I set up the playdough with some cake cases and sparkles for us to play cake baking and decorating, but Annabelle soon found lots of other exciting ways to use her lovely new playdough!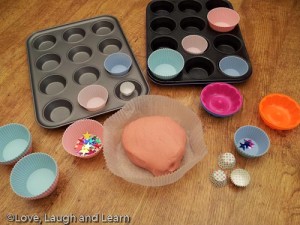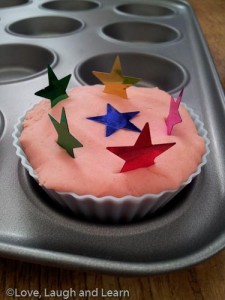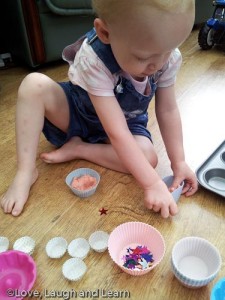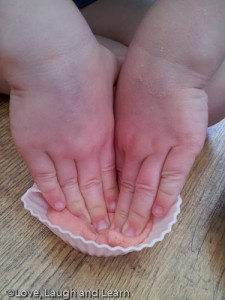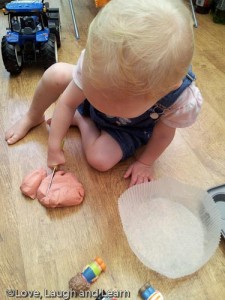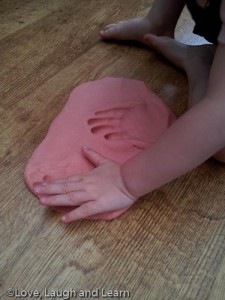 We love our new playdough, but I can't wait to make some more! Thank you Imagination Tree 🙂