We have been exploring Manchester, and the Museum on Science and Industry (MOSI)! Dave spotted an advert for the Maker Faire at MOSI and it sounded too good to miss! Entrance to MOSI is free although special events and exhibitions are sometimes extra, but we were glad to see that the Maker Faire was also free.
It consisted of a celebration of all sorts of 'making' – crafting, hacking, gadget building, and all round creativity! There were stalls displaying all the different makers, giant games to play, music, dancing, science experiments, and that's just the Maker Faire!
To make our adventure all the more special, we decided to travel in on the train which Annabelle was VERY excited about! We had a long look down the track, and you can see straight to the Beetham Tower in the centre of Manchester (where we spent the last night of our Honeymoon, and our first Anniversary!!)
Annabelle took her current favourite buddy, Dora, along with us and she did a great job of making sure Dora was very careful near the train tracks, that she sat sensibly on the benches, and she held onto the handrails on the stairs!
After our train ride, we used the free Metro Shuttle buses (we do love freebies!) to get us to MOSI
As we arrived, there was a Samba band and dancers right in the entrance – what a welcome! We got stuck straight in making paper rockets which were fired up into the air!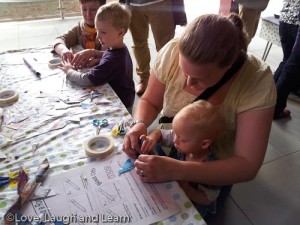 Next stop was Dave's favourite place – the power hall! A huge hall with all sorts of engines showcasing water, steam and horse power up to more modern diesel engine trains.
After this we went to the main area of the Maker Faire where all the stalls were displaying the makes! We saw some beautiful crafts including patchwork and quilting, re-cycled jewelery, knitting, and handmade beads. Dave enjoyed the gadgets – especially the computer with a real fish tank inside (and an Ipad app to control the water temperature and lights!) and I was fascinated by the 'hackers' – this is a sort of upcycling, Turning something old into something new, that performs a different job. For example, the bicycle wheels turned into knitting frames.
After all the excitement, we headed off into Manchester for some dinner, and safely dodged some torrential downpours to make it onto a tram for some more free public transport! Trams are free in the city centre zone if you have a train ticket into a Manchester Central station. So Annabelle completed her trio of Train, Bus and Tram travel all in one day!
We had a fabulous time, and Annabelle loves retelling her adventures about the train trip to 'An-chester', she even took her train ticket to bed!