At last!
We have been waiting for the weather to be just right for ages so we could get the sand out! I wanted a good stretch of decent weather so we could leave the sand out for a while, and not pack it away after a couple of hours when the rain set in!
This inflatable sand and water tray was one of our end of summer sale bargains from last year, and it has been great for sensory play with lentals, rice, water, cloud dough and bubbles. We resisted the urge to buy a big sand and water table, as we just don't have the storage or shelter from the elements to keep it out permenantly, but this little one can be folded up and packed away when finished with. In my dream garden there will be a lovely covered area that we can play in whatever the weather!
Anyway, with the weather looking up, we gathered up the buckets, spades (or 'oopers' as Annabelle calls them!) sand moulds and rakes and got the sand and water set up outside.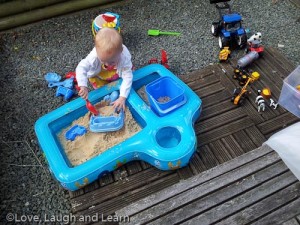 Annabelle enjoyed making sandcastles (she remembered how to do this after using the proper stuff at the beach!) and sand shapes. She fetched some tractors to investigate tyre patterns, buried her farmers and laughed at their 'dirty shoes!. She washed lots of the stones from the path, and of course transferred several scoops of sand into the water, and water into the sand!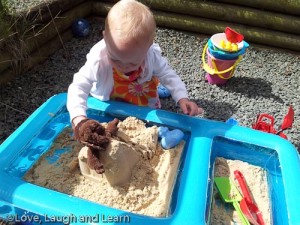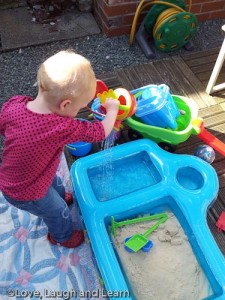 When it was time to come in, I simply covered the tray with a plastic sheet and brought it inside. We have had a good few days of sunshine so she has enjoyed being able to practice all these skills every day.