This is just a quick catch up of some of our recent outings!
Our first adventure was back on the Middlewood Way exploring the middle section of this track – from Jackson's Pit where we turned back last time, along towards Macclesfield. We didn't make it all the way down to Macclesfield, but we did discover a lovely little canal basin and marina next to the car park in Upper Poynton.
This is one of those (not very hidden) gems that we stumbled upon by happy accident. We had intended to have a look at the visitor centre at Jackson's Pit car park, but it was closed when we got there. We have never actually used the car park because our car won't fit under the barrier with the bikes on top, but when we had a closer look we saw sign pointing through the car park to the canal, so we decided to have a wander along seeing as the visitor centre was closed!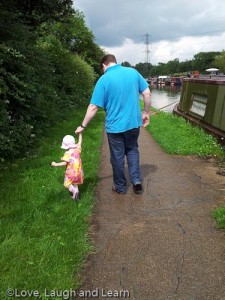 We saw lots of house boats moored up, and quite a few coming and going. There was even a boat yard with new build boats at various stages of completion. Annabelle really enjoyed seeing the different coloured boats, and noticing all the little details such as – some have flowers on top, some have pictures in the window, some have a 'chair for the driver' (her words, not ours!). We sat on a bench to eat an orange (of course!) and watch the world go by with boats chugging past in front and cows mooing behind. Lovely!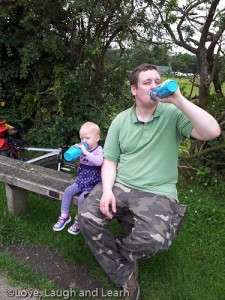 Annabelle made a new friend, a little kitten from one of the house boats came up to investigate us and Annabelle found it hilarious to see the kitten sniffing and standing on the bikes!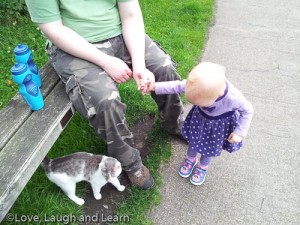 Our next mini-adventure was back at Woodbank park, one of our favourite haunts. This is a nice big, open park with shady trees, a big playground and of course – ducks! This particular evening was really damp and chilly so no need for shady trees! This was back in the really long wet spell and we were all desperate for some fresh air so we suited up in our waterproofs and braved the rain – which stopped just as we arrived!
Annabelle had some new wellies to test out and she put them to good use, not so much stomping, but wading through the puddles! She liked going through sticky mud patches, then finding running water to wash her wellies in!
Much as we love muddy puddles, I am looking forward to writing about some sunny day adventures now that the warm weather is on the way!