Happy Birthday to my wonderful Husband (A belated post – Dave's Birthday was in April!!)! To think, I was a teenager when we met (I had just turned 19!!) and now here we are heading into our 30s – or rather YOUR 30s!
This is how Dave's 30th Birthday went…
Annabelle and I got up early and sneaked downstairs to start the preparations. Well… we sneaked for about 20 seconds until the house alarm went off! When will I start remembering to switch the thing off in the mornings before I go downstairs?!!! After alerting the whole street to the fact that we were up and sneaking about, we started decorating the house. We had balloons, banners, cards and presents to get ready as well as my favourite birthday surprise…personalised t-shirts!
I made these t-shirts at home using printer photo transfers and some cheap white t-shirts. They were so easy, I just played around with a photo and word art in publisher, then printed staraight onto the transfer paper. A quick iron and…ready!
Eventually we managed to rouse a pretty poorly Birthday boy to come and open presents. I felt so sorry for Dave, feeling poorly on his 30th but he put on a brave face and we had fun opening presents.
For a birthday treat for my chocoholic hubby, I had booked us a table at Slattery's restaurant in Whitefield. Slattery's main business is as a cake and chocolate shop but they also have a nice restaurant upstairs where you can enjoy all the chocolatey cake goodness on site!
We had amazing hot chocolates which are made by coating the inside of a latté glass with liquid chocolate, filling with hot milk, and placing a chocolate disk on top. perfect! Our puddings (the most important bit!!) were fruit skewers with chocolate dip in a chocolate pot for me; and for Dave a chocolate egg, filled with white chocolate ice cream, topped with a chocolate 'yolk' and resting on a disk of chocolate. It's a good job this place is a few doors along from our dentist!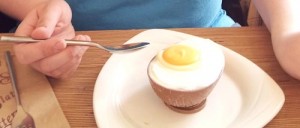 After our chocolate overdose, we felt the need for some fresh air and gentle exercise! We were not far from Heaton park so we headed there. Annabelle enjoyed seeing the ducks and horses, and we even had some stale bread in the car to feed them. You never know when you will need some stale bread!
Next on the birthday list – cake!! I had ordered a Costco cake and we were both really looking forward to it…until we ate our own weight in chocolate at Slattery's! We collected the cake but didn't manage to eat it until the day after! It's a shame Costco only do 1 size of cake. It was nice but obviously far to big for the 3 of us, so lots went home with family! I don't think we'll be ordering one again unless it's for a party! Annabelle was treated to her first EVER piece of cake as a birthday treat (without icing!). I think it's safe to say she enjoyed it!
That was about it for Dave's birthday – chocolate, cake, and a little bit of sunshine at the park.
Happy Birthday to my fabulous husband! xxx