Firstly, I can't take any credit for this activity at all! I saw it on Happy Hooligans, and thought 'yes, we need to try this!'
So this was how we spent a rainy Wednesday morning last week…
We assembled our equipment (surprisingly simple really!)
– Tupperware box
– Food colouring paste
– Pasta – we used some nice big rigatoni
– Vinegar
– A small cup or container to mix the paste in – we used an espresso cup.
And that's it! I used a small blob (a very small pea size is all I can compare it too!) of food colouring paste and a teaspoon of vinegar. I didn't really believe that such a small amount of food colour would cover all the pasta but a little really does go a long way. Mix it up untill smooth, and pour onto the pasta in the tupperware tub.
This is the good bit – seal the lid tightly, and shake shake shake!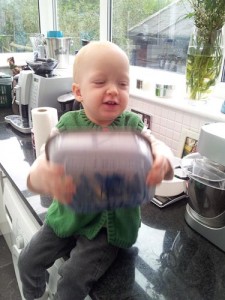 The pasta was coated really quickly – quick enough to hold Annabelle's attention, and we put it on a tray to dry. The tray I used was plastic so any food colouring washed straight off later, a wooden tray might not be so easy to clean!
We repeated this with other colours. I had bought red, blue and green (the only colours available at my local supermarket) I tried to mix red and blue to make purple but I think there was just too much paste and they turned out pretty black! I also tried to use pink liquid food colouring but it just wasn't strong enough and the colour looked pale and blotchy. Although the food colouring paste is more expensive than liquid, you need such a small amount that it will last much, much longer. Still, we had fun experimenting!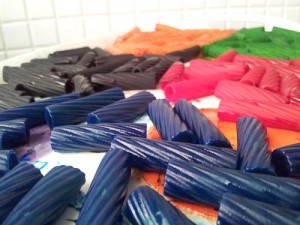 We left the pasta to dry near a radiator and by the afternoon it was fully dry and ready to play with.
Annabelle made necklaces and bracelets (as with most of her crafts she always saves a sample for her Grandmas!) which was fantastic for fine-motor and hand-eye coordination development and, of course lots of talk about colour, pattern, counting etc.
After this Annabelle played a self-initiated game of sorting the pasta into coloured piles so I got her some bowls to help. She loved sorting, and chatting to herself about the different colours. She also had a great time weeding out any cracked or broken pasta and dashing back and forth to the bin. This girl really does love an excuse to go to the bin!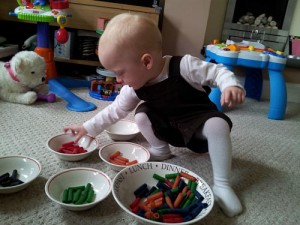 I have kept the pasta in a large ziploc bag to use again. I am sure there will be plenty of chances to use it for sensory play, sorting, threading, mixing & sieving etc. This is defiantly something we will do again at home and I think the kids at school would love it too. Thanks Happy Hooligans!